Website Design for Buildwell House of Construction Machinaries, Bhuj, Kutch, Gujarat, India
BUILDWELL a Milestone name in Indian Machinery Manufacturers of FLYASH / CLAY BRICKS – BLOCKS – PAVERS MAKING AUTOMATIC Plants by SAHJANAND GROUP OF COMPANIES located in BHUJ – KUTCH, GUJARAT.
Why we are talking about this particular website ?… is because of the sheer swiftness at which this website was designed, coded & hosted. Mr. Vishal P. Bhatt, Director SmartFish had gone to meet the client in Bhuj. Clients old website looked really below par compared to other peer competitors from the machinery and construction industry from Kutch as well as from whole of India. There was an SOS to the design team in Ahmedabad about the requirement of a new website which had to be done on the urgent basis. We at SmartFish took it as a challenge to finish the website as soon as possible. Within 48 hours of the clients requirement for an urgent website to be designed for his business, www.buildwellindia.com was launched. Yes there were changes which were needed but not major ones, its expected when a website is designed, coded and hosted with 48 hours.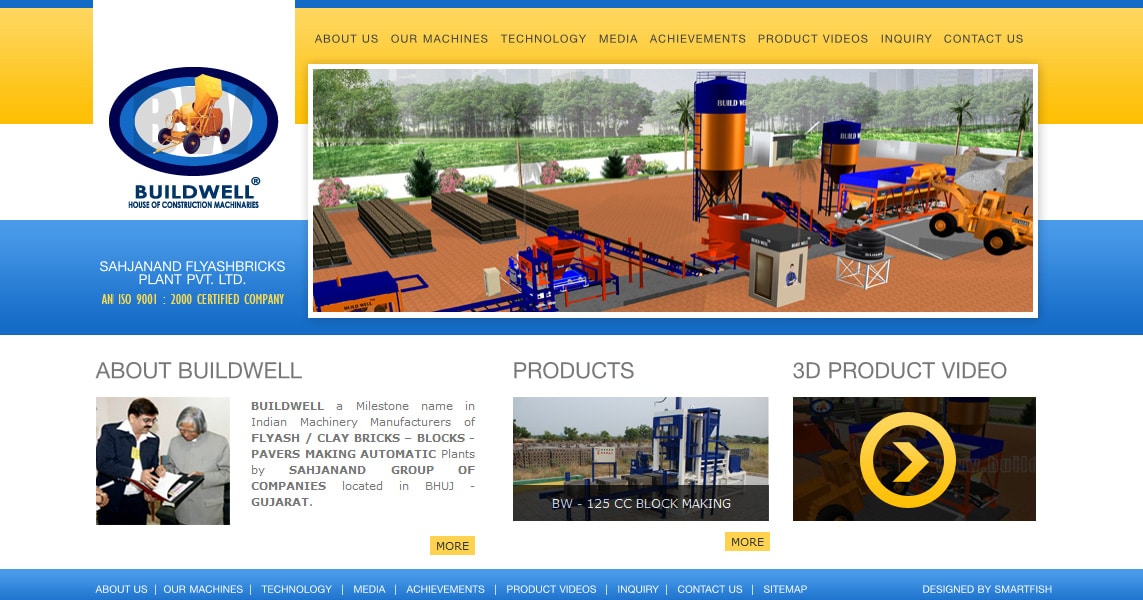 Website Designed, Developed and Hosted for Buildwell Bhuj – Kutch within 48 hours after receiveing an urgent request.
SmartFish Designs is an Ahmedabad based Website, SEO, Graphics, Web Hosting Company. If you belong to towns like Bhuj, Gandhidham, Mundra, Anjar, Adipur and require our services we request you to kindly contact us for your project.